Build Gallery
Aaron's Endurance Road

This bike came with me to the Philly Bike Expo and Aaron spared no expense to make this into a proper show bike. The frame features some technical details I had never attempted before. An integrated seat post with custom topper was the first big challenge. I used a straight gauge 1 1/4" 4130 tube ,reinforced with sleeves at the bottom bracket and top tube joints. The topper, also 4130, is designed to accept an Enve single bolt saddle clamp. Next up, the rear brake line routes through a full tube in tube setup, that runs through the bottom bracket. The beautiful fade was painted by Gordon Freedman at Cycle Classics in Portsmouth Va and is the first wet paint job I've ever had done. You should have seen the look on Aaron's face.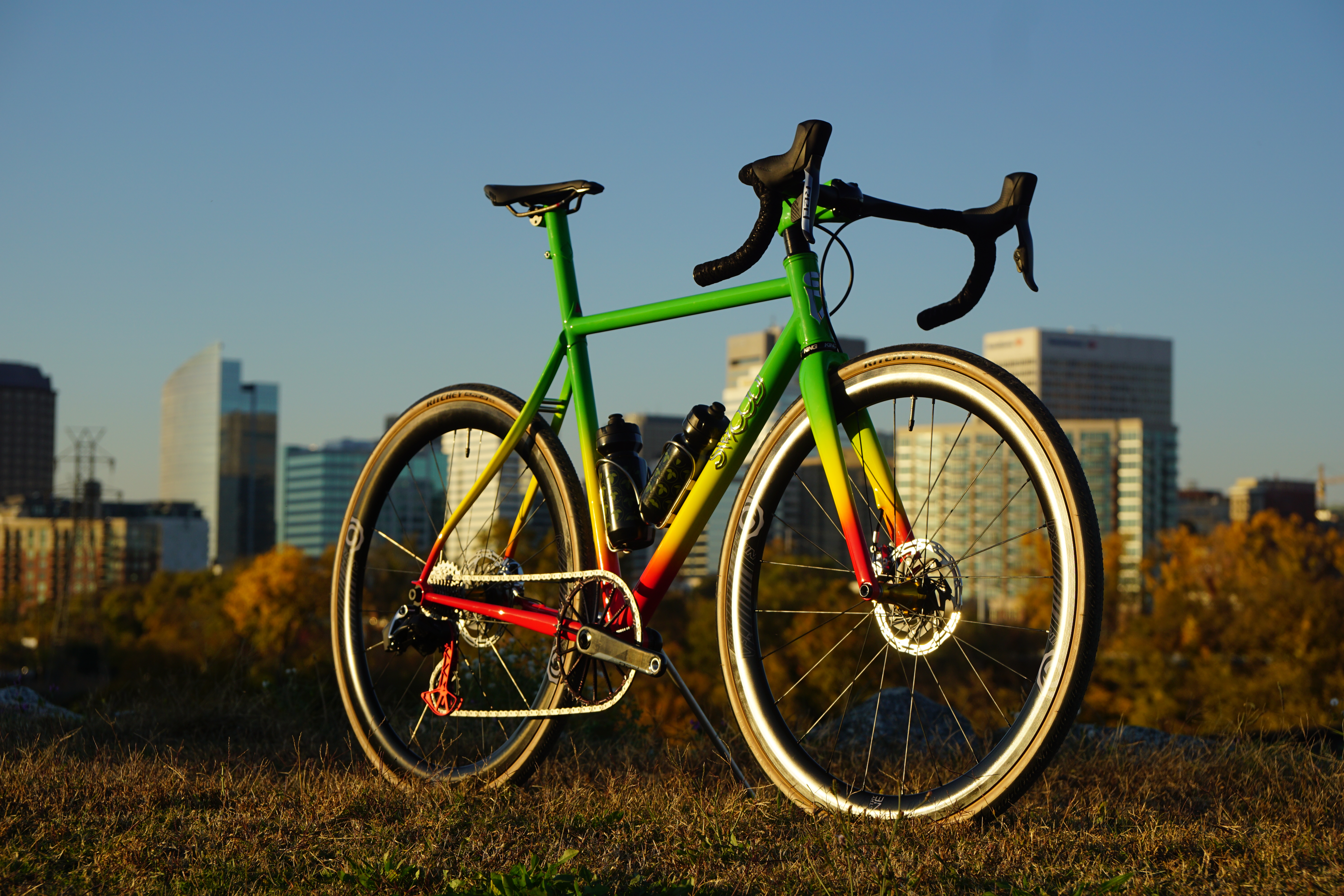 Graham's Single Speed Cross
Graham is a local race promoter and team organizer in Virginia and is now opening up his mind to the zen art of singlespeeding. This bike features some farly new Paragon Machineworks sliding flatmount dropouts and some drool worthy green powder coat from Detective Coating here in Richmond.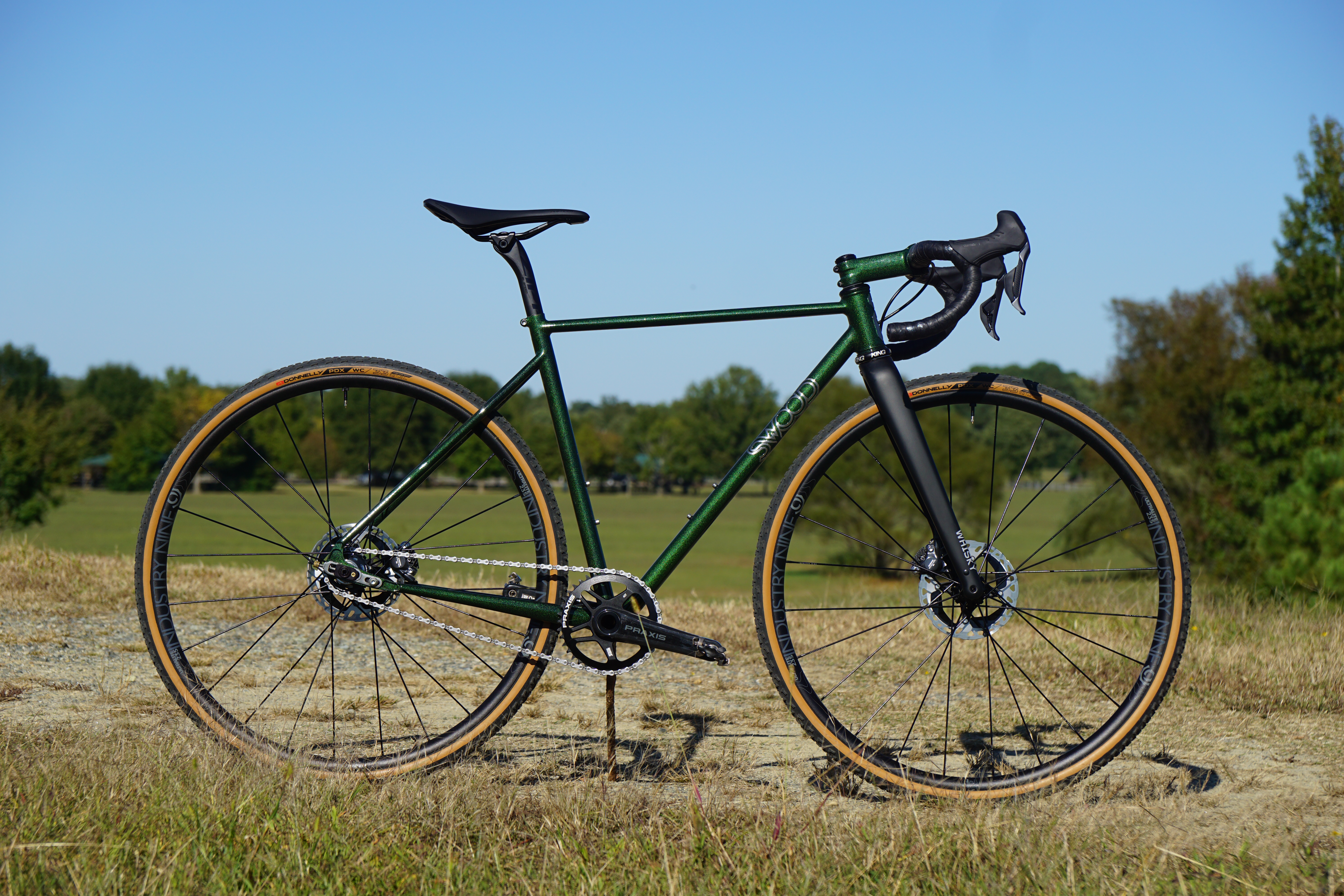 James' DC Commuter
I love single speeds. They are so mechanically simple, yet so demanding (and rewarding) for the rider. James want a speedy and utilitarian ride to get to and from work and to run some errands, and the single speed is the perfect solution. Paired with a custom rack with mounts for a Wald 137 basket and a hand laced set of Velocity USA wheels.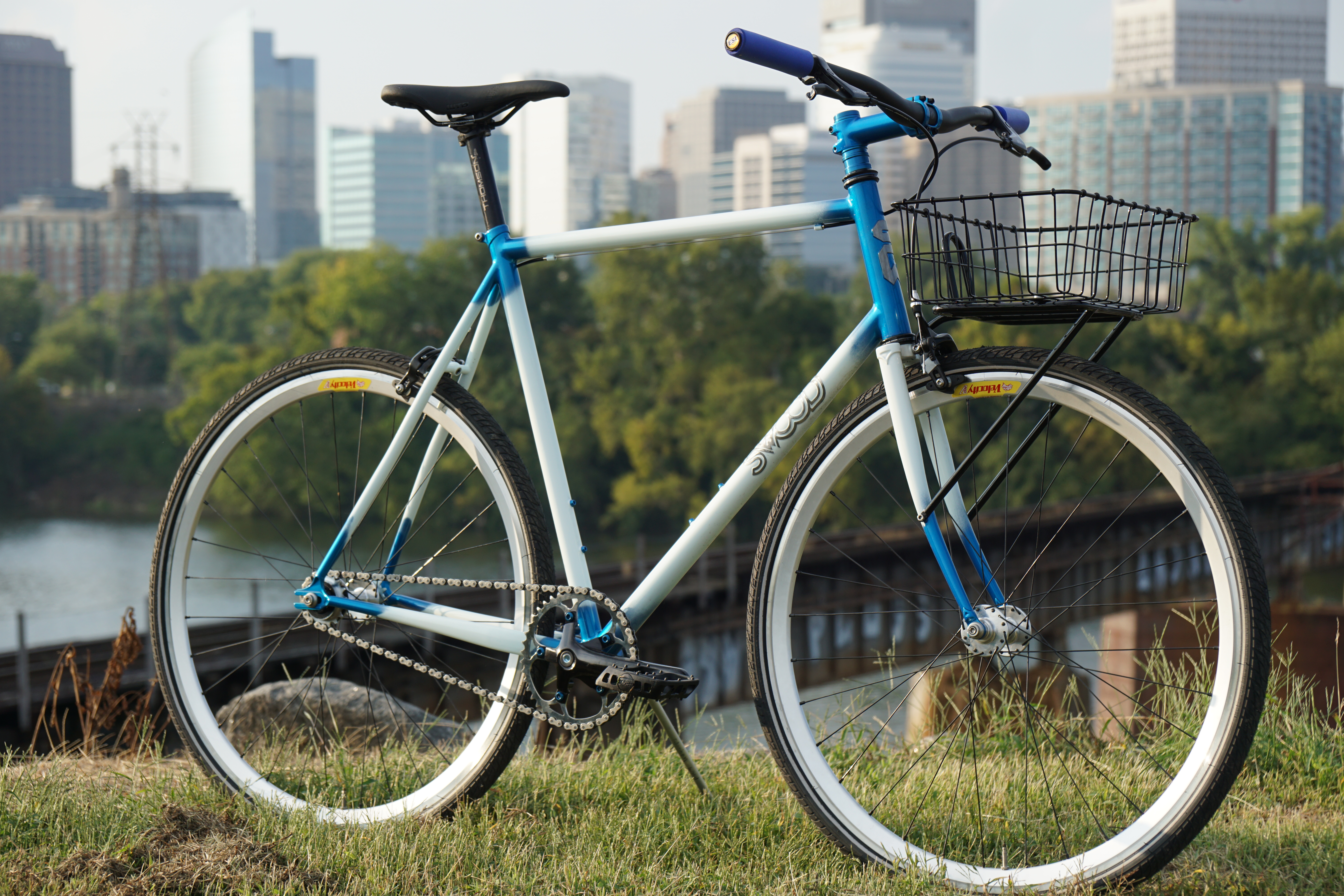 Wes' BTO Adventure Bike


This is the first Swood frame featuring BTO geometry. BTO is my take on progressive mountain bike geometry meets drop bar gravel/bike packer do it all machine. A 69 degree head angle and a lengethened top tube sets the front wheel out in front of the rider and places their center of gravity closer to the center of the bike rather than over the front wheel. Room for 50mm tyres and all of the braze ons to attach all the bags and things and Wes even makes his own bags. Be on the look out for a collaboration from Swood & Wes.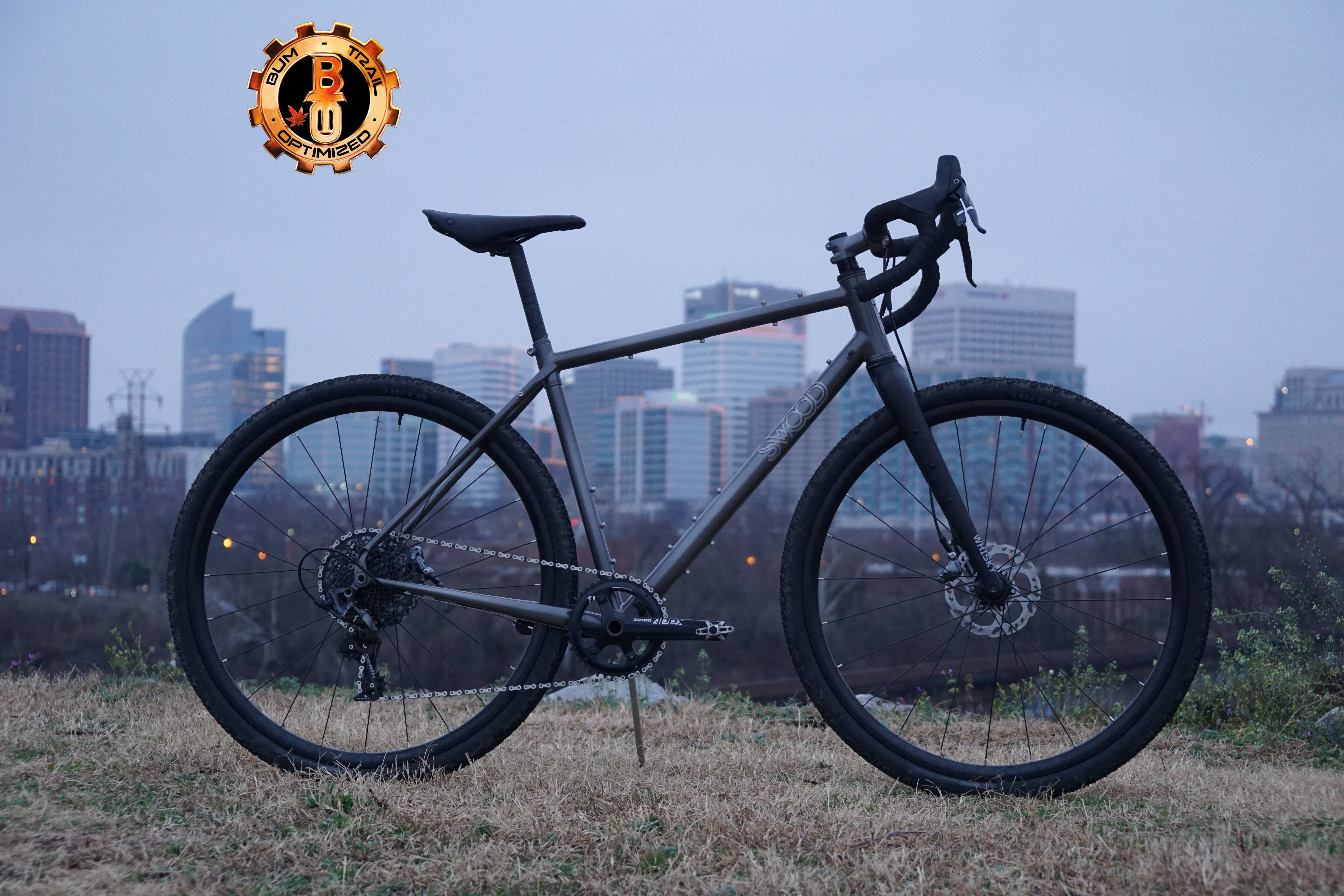 'La Flama Blanca'


My personal road bike doesnt get ridden that often anymore. Like most of the bikes I've made for myself it was built from a hodge podge of tubes left over from other projects and all its components stripped from a donor frame (my previous Trek Emonda). It worked out that the tubes I had made up a more traditionally sized tube set and I learned with this frame that small tubes can produce a stiff and responsive frame, something I thought was mostly accomplished by oversized tubes.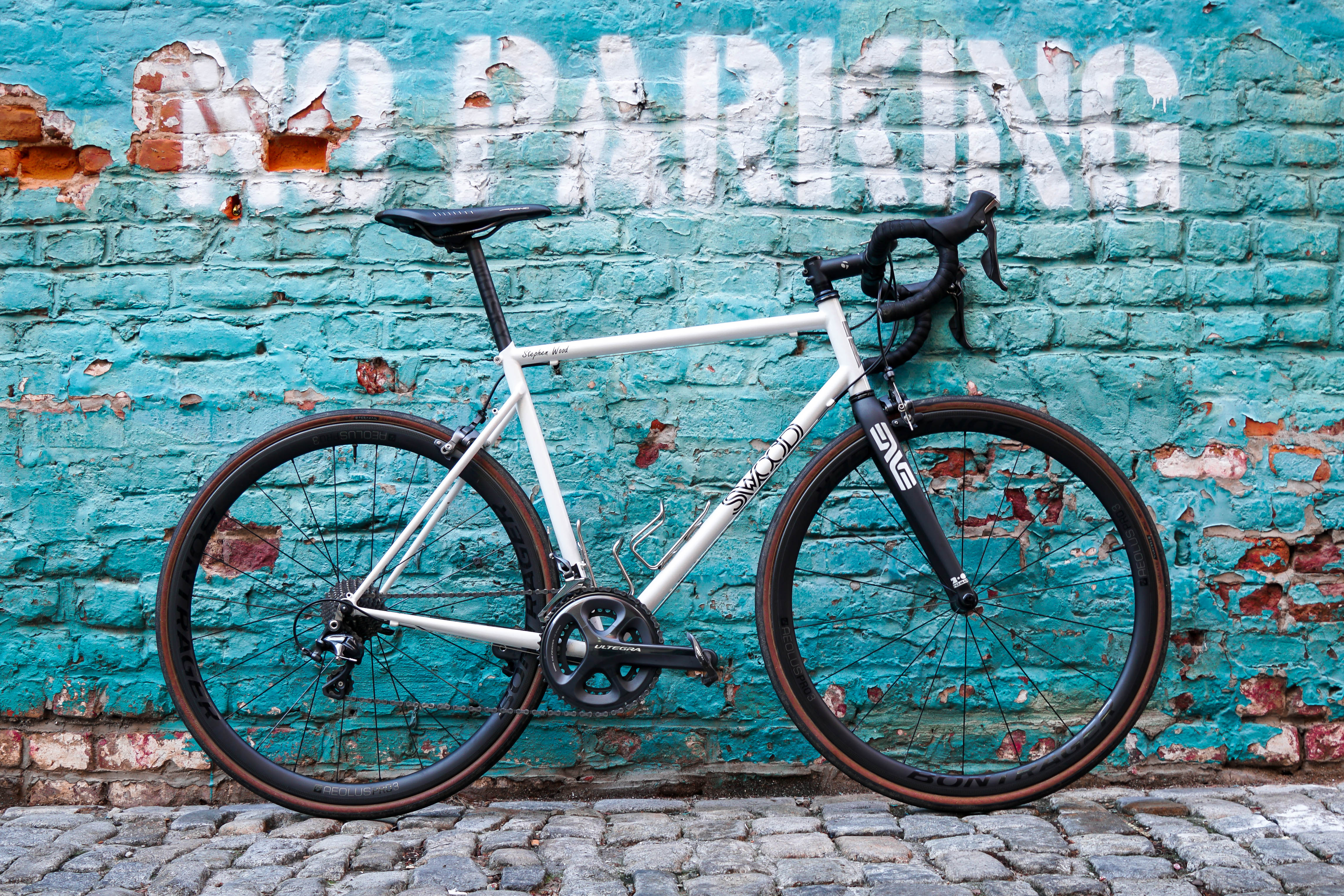 Ethan's All Road



Ethan has been the Swood Cycles official guineau pig since the beginning, so when its time to try something new, Ethan gets a new bike. This one got a full Zona tube set, smooshed top tube, internal brake routing, and custom turned head tube rings (These are now standard on all my frames). Ethan wanted to go fast like his old BH G6 Pro, but not break his neck every time he rode more than an hour. So we found the middle point between the stack/reach of the BH and his other favorite ride, a Kona Libre CR. The result is this stunning orange and maroon (Go Hokies) all road bike.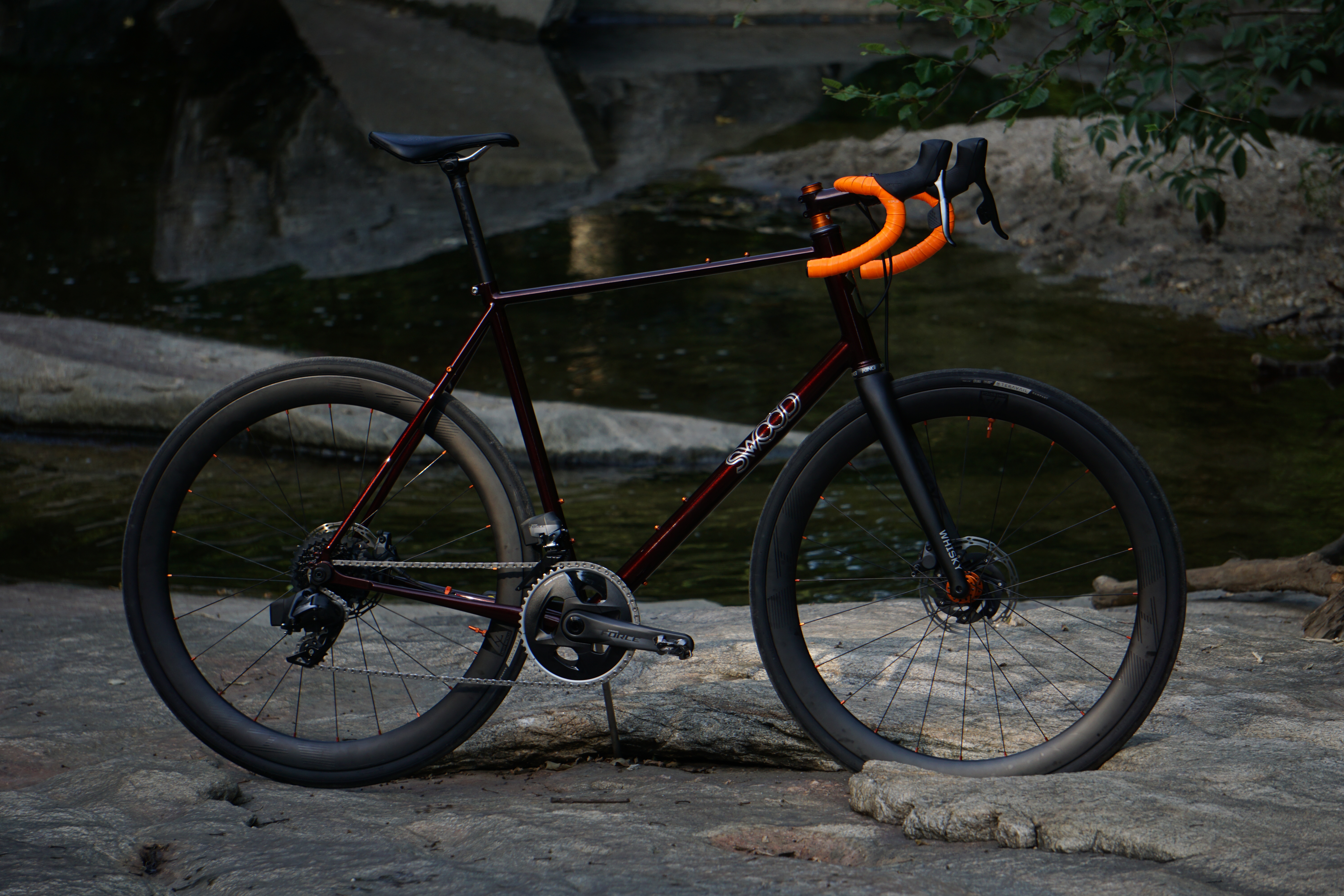 The 'Null Pointer'


What is this bike? Do you know? I don't... Yet for some reason it has the most miles of my entire fleet. This is the first frame I built on my own, and it shows. The fillets are bubblegum, the stays are wonky, the paint is flaking, and yet its perfect. Setup with 50mm tires and the shortest wheel base you've ever seen its the toe overlap king. All that said, its been drop bar, its been flat bar, its been toured on, its ridden 99% of the singletrack in RVA, long gravel rides, it is everything and it is nothing.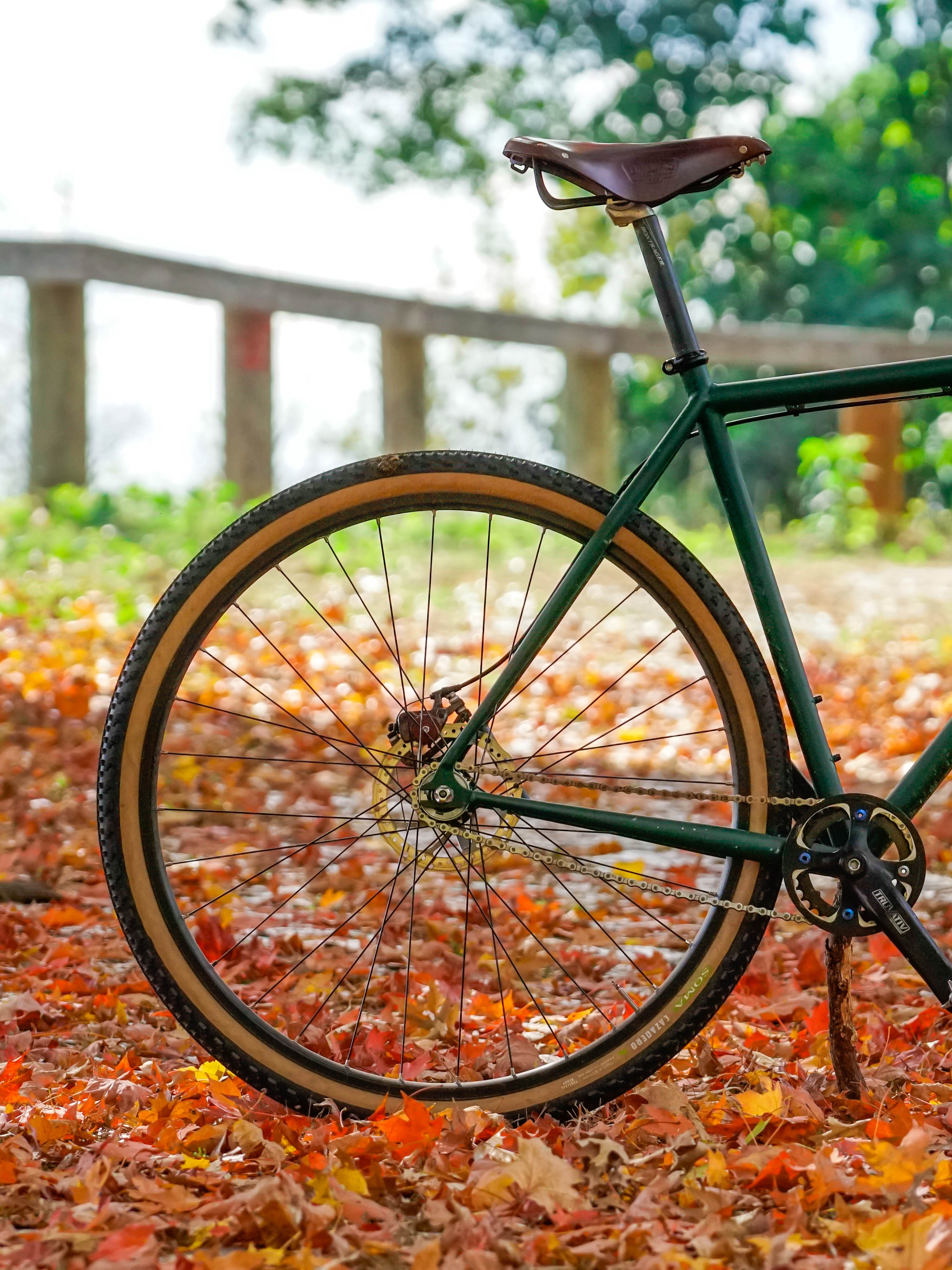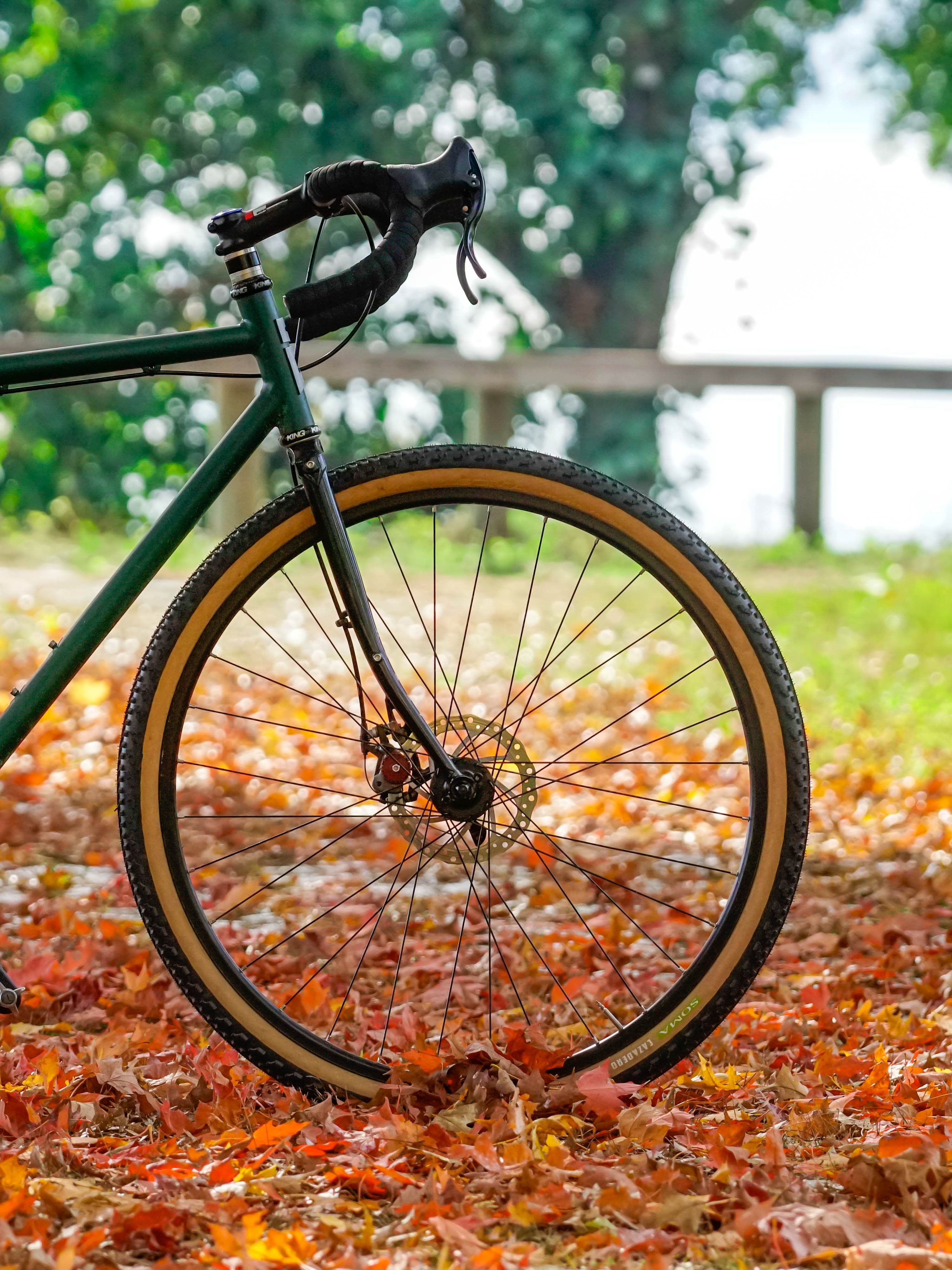 Ethan's SSMTB


Another guineau pig bike, this time a hardtail. Check out that sweet plate yoke from Konga in Finland, sliding dropouts and a 120mm Pike. Roughly based on a Ritchey Ultra its original job was to teach Ethan how to singlespeed, but its also got a deraileur hanger and all the bits for when he has mastered the zen. The original wishbone seatstays broke pretty early in its life, it's since been reborn in this stealth black outfit.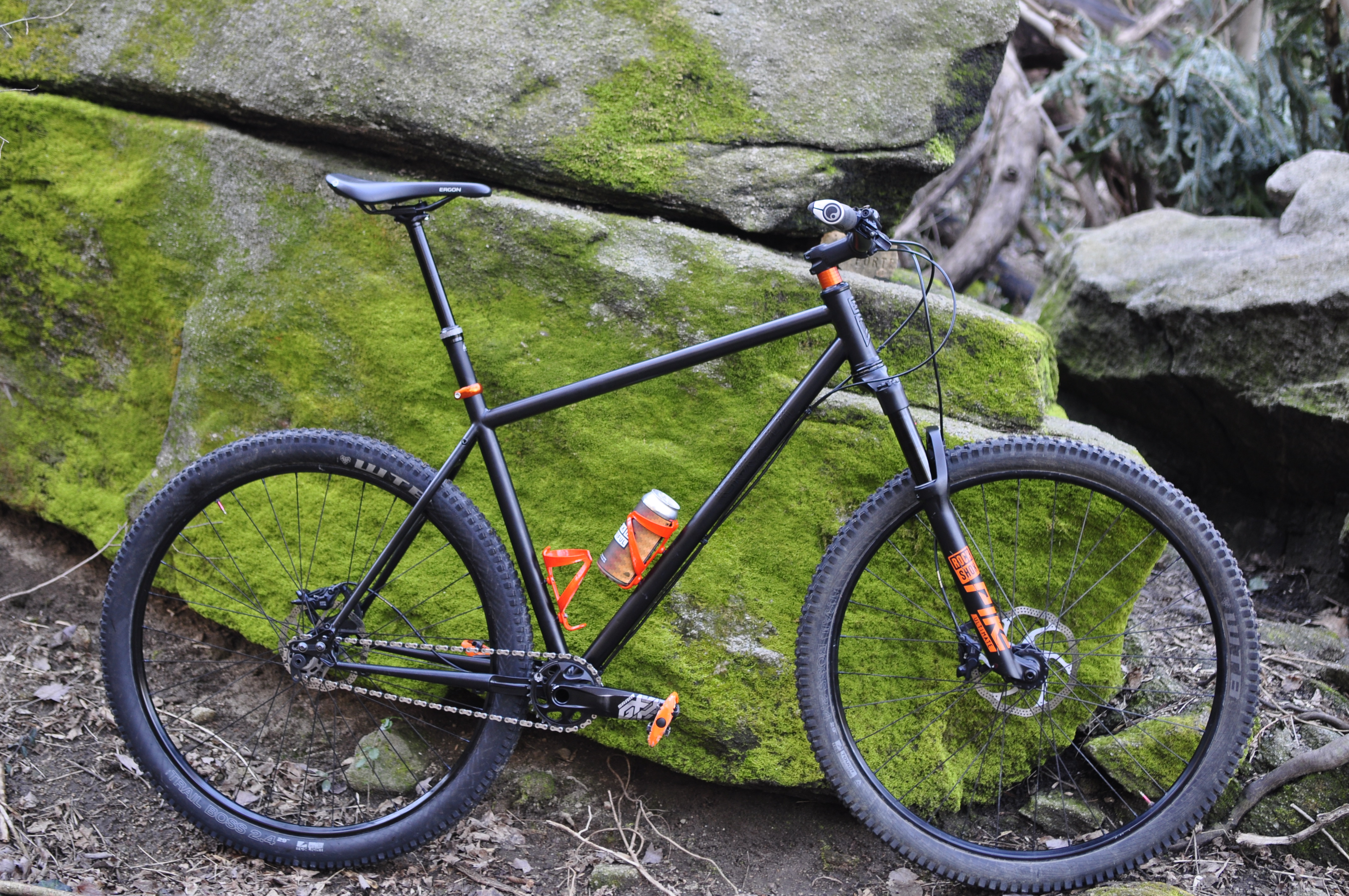 Jake's Monster Cross


Jake wanted a snappy gravel bike with some spunk. Room for 700x45 and 650x2.1 all tucked into 420mm chainstays and a 68mm road bottom bracket. To do that I made a one sided plate yoke with some drillium. Also featuring a whopper 44mm downtube and paragon dropouts. Jake is the poster child for custom frame customers. He'd done a professional fit and sent me a spreadsheet with his entire fit detailed. He knew head angle, chainstay length and tire clearance making my job super easy, just build the dang thang.